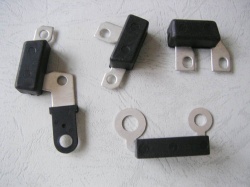 Founded in 1978, we've been supplying auto/motorcycle capacitors and condensers, of which we are noted for being a reliable maker. To enhance corporate competitiveness and continue offering quality products, we stringently adhere to the ISO9001:2000 QC system, which helps to build long-term business.
Motto: Responsibility, Reliability, Service and Superiority
Service: Manufacture of condensers for autos, motorcycles, agricultural machinery, and auto-use generators.